Submissions
Submissions & comments can be sent to the editor at
VidMaster@Cyber-Wizard.com
. All work submitted must be your own original work, or have permission from author to do so. No work submitted may violate any copyright laws. Authors will be fully credited for work. Until further notice all submissions will be accepted up until 10 days prior to the 1st of each odd-numbered month. Any work received after then will be considered for the next issue. All submitted articles/artwork become the property of Marathon Magazine.
Important Note! This is the FINAL issue of Marathon Magazine, so do not send in any more submissions or subscriptions.
Acknowledgements


The name Marathon™ and all Marathon game graphics are used with permission from Bungie™ and are ©1994-96 Bungie™ Software Products Corporation. All Rights Reserved.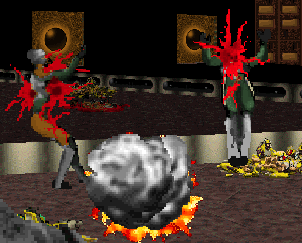 Propaganda


Don't end up
like these guys
!

*NOTE*

Marathon Magazine will cease to exist
after this issue, so don't send subscriptions.
©1994-96 Bungie™ Software Products Corporation.
All Rights Reserved.

Where Marathon Magazine is uploaded


Marathon HyperArchive MidWest <
http://www.pullmyfinger.com/marathon
>

Feel free to upload Marathon Magazine to your favorite BBS or internet site.
Questions?


E-mail Frost at
VidMaster@Cyber-Wizard.com
Marathon Magazine is FreeWare, and will be distributed as such. Marathon Magazine may be on any CD-ROM or any other form of media as long as the editor is notified of it's existance. Marathon Magazine may NOT be distributed on Microsoft Network, or on any Microsoft run FTP/WWW sites under any circumstances.


Marathon Magazine was

Back to The Table Of Contents