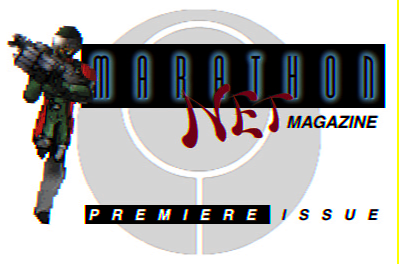 Thank you for taking the time to look at the premiere issue of Marathon NET Magazine, the only electronic magazine that specifically looks into the NET world of Marathon. I've strived to make Marathon NET Magazine as user friendly as possible. To go to a article/review, simple click on the representing icon for that article/review, and it'll take you there. At the bottom of every article/review, there will be buttons that will take you either Back to the previous article/review, a NET Player button, which takes you to this page, the Table Of Contents. There is also a Forward button, which will take you to the article/review ahead of the one your currently one. Enjoy!



Bungie recently announced the cancellation of there long
awaited Marathon 20/10 Add-On Pack.




5 extensive Map Reviews.




3 Physics Model Reviews.





Sure the MW Marathon Meyhem Tournament was a long
time ago, but it's been the biggest Marathon Tournament so
far, and I just thought I'd like to recap of what took place.



The Bungie Map Vote . . .What's Your Favorite Bungie
NET Map?




A Listing Of All The Marathon NET-Related Sites On
InterNet.



Perhaps You Have A Comment, Or A Suggestion? Or
Do You Just Want To Make A Submission?





A Final Word From The Editor.




Some Information On Marathon NET Magazine.