Map Reviews will be a monthly feature in Marathon NET Magazine.
I'll be reviewing 5 maps designed for Marathon NETwork play in this
premiere issue of Marathon NET Magazine. All maps that I review, are all avialable in the Archive Folder in the Maps Reviewed folder for your enjoyment. The 5 maps I'll be reviewing in order are:

1. IRC #Marathon Collab. Map Preject.
2. I Could've Had A V8! v1.2.
3. Hell.
4. Underground 4/8.
5. World Wide Web v1.1.

In each Map review, the following will be displayed:

1. Title. (Name, Large and Underlined)
2. A Picture of the map.
3. The name of the map.
4. The author/s of the map.
5. Catagorized in size. (Small, medium or large)
6. Number of polygons the map has.
7. Recommended number of players.
8. Also contains. (ReadMe/Physics Model, etc . .)

Also, I'll have extensive information on the map, in this order:

1. The Map
2. The Good.
3. The Bad.
4. Overall.

All maps will be rated out of 5 Stars, 5 Stars being excellent, and in a declining order . . .1 Star meaning very poor.


IRC #Marathon Collab. Map Project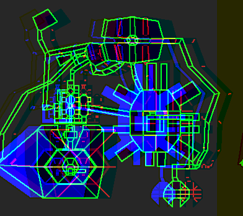 Map Name:
IRC #Marathon
Collab. Map
Project.


Author/s:
The gang on IRC
#Marathon. (Over a
dozen)


Map Size:
Large.


# of Polygons:
221.


# of Players:
6 to 8.


Also Contains:
A ReadMe File.




The Map:


Well, to start, big. This map is extremely large and must be played with 6 to 8 players, even thou 8 is strongly recommended. This map was made over a coarse of weeks, over a dozen people chipped in to make this map to what it is . . . .big. It combines very short, narrow passages with nice big open ledges and rooms, multiple lighing and elevations makes it a class act all the way. Aliens, this map contains it's fair amount of aliens, not to little, and not to many. As you can see, little narrow passages connect most of the larger rooms, making it hard to get around, cause if two meet in a passage, one has to die, which is not all bad . . .only for one of them.


The Good:


What makes this map good, is the use of all the different lighting in this map. Some rooms are well lighted well others are practically pitch black, which can be used as an advantage to some. As I said before, the fact that all the larger rooms, are conneted with these short, narrow passages, which makes alot want to just pitch a tent, and just sniper everyone out as they come through.


The Bad:


Weapons . . .after running all around this level. I had a lack of weapons. Most of the time I had an Assult Rifle, which is all not bad, but once ammo ran out, and stuck with a bunch of Aliens surrounding me . . .it's just not good. you want to morely get killed by the other NET players, and not by Aliens. This map is not totally finished yet, so, we might be able to expect some more weapons placement in the near future.


Overall:


Overall, it is extremely good and would recommend it to anyone who just so happens to play 6-8 player net games. It combines alot of different techiques and ideas throughout the whole map, cause it was designed and made by over a dozen. I give it 4 out of 5 Stars.



I Could've Had A V8! v1.2
Map Name:
I Could've Had A
V8! v1.2.


Author/s:
Michael K. Neylon.


Map Size:
Small.


# of Polygons:
60.


# of Players:
2 to 8.


Also Contains:
A ReadMe File.






The Map:


This is a small map, in design, it can be related to Bungie's E Equals MC What! The two are very similar. I Could've Had A V8! has pillars like Bungie's level, only they are elevators that go up and down, and contain weapons on the top. There are only a couple lighting settings, either way, practically the whole map is illuminated fine enough to see your opponent/s.


The Good:


The design of this map is very good indeed. Having most of the weapons on the elevators is very good, cause then sometimes you have to wait, then rush on, which can get very nerve wrecking if you have an opponent on your trial. The two ledges give you view to the whole map, which ables you to sniper out anyone, anywhere . . .almost. As well as aliens, lots of aliens to get in your way, but it's only good to a certain extent.


The Bad:


Well, the only bad part to this map is the way it runs on the slower 040 based Macintoshes. All the elevators moving up and down over and over all at once seems to slow it down . . .alot on some Macs. This is a drastic factor and I find this the only flaw. It really spoils it to some people, so for best or regular performance . . .I think a PowerMac is needed. Aliens, they also slow it down, there are many, but just the simple "easy to kill" ones.


Overall:


It is a well laid out small map. All the elevators spoil this map for people with 040 based Macintoshes, as well as the numerous amounts of aliens. So, if your running a 040 and still want to try this out, I suggest turing aliens off. I give it 3 out of 5 Stars.



Hell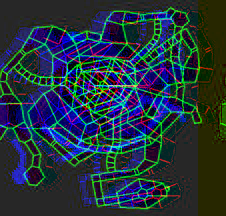 Map Name:
Hell.


Author/s:
Tom Phillips.


Map Size:
Medium.


# of Polygons:
138.


# of Players:
4 to 6.


Also Contains:
A ReadMe File.







The Map:


Ahhh . . .Hell. This map is wicked, it has such a "Hell-Like" feeling to it. Hell has really, really been well thought out and the final product is just outstanding. Even if you can't play NET Marathon till later tonight, I still suggest just walk around in Hell. The outside world in Hell, can be very, very confusing, you do not have any sense of moving, no passing of floor or ceiling textures, in the outside world of Hell, the only sense of movement is your lill' weapon bobbing up and down in front of you. In the inside world of Hell, it's all textured so you have the feel that your actually moving. Once your outside, you could be just rubbing up against an invisible wall and not even know it, when outside . . .I strongly suggest to use you map alot.


The Good:


The design. It's outstanding. Tom Phillips really captured Hell, and made a NET map of it. When outside, it can be extremely easy to loose an opponent, when inside as well, mulitple exits gives you lots of choices to run . . .or hunt. Not to many aliens, very good, let's you concenrate on your opponents more.


The Bad:


Hell can run sluggish on slower 040 based Macintoshes. When outside in Hell, that's when you people on slower 040 will notice, no problems inside, just outside cause the vast amounts of polygons, even thou you can't see them . . .there still there.


Overall:


Hell is extremely good as well as fun. Well thought out to give you the maximum Hell experience. The only down side to Hell is how it tends to get a bit sluggish on slower 040 Macs when outside. I give Hell 4 out of 5 Stars.



Underground 4/8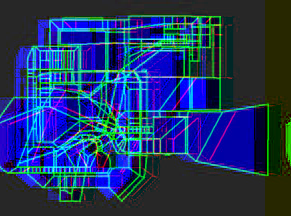 Map Name:
Under-
-ground 4/8.


Author/s:
Thomas
Samson.


Map Size:
Large.


# of Polygons:
207.


# of Players:
4 to 8.


Also Contains:
A
ReadMe
File.



The Map:


Underground 4/8 is a large, if so big map. The author suggestions 3 to 8 players, but my personal recommendation is at least 4 players. This map has multiple testures, lighting settings, elevations, the whole bit . . .almost perfact . ..almost. Underground 4/8 has large rooms, small rooms, all sizes and shapes, lots of veriety. You can move with ease throughtout this map, very nice, and as I said before, lots of different textures, and that's not a bad thing either.


The Good:


The textures, all the different textures you see. There is not a whole lot of repetition, there is some, but not as much as you would find in other maps. With all the different textures, it can help, you soon to realize where exactly you are in this map, never mind about it's large 207 polygon size, you can still find your around. Multiple elevations, yes, your radar is showing that one of your opponents is right behind, trickery, hes/she's right above you. It can get very frustrating when someone is "suppose" to be right in front of you, yet they are about/below you.


The Bad:


Weapons, right off the start I ran around and only seemed to get few weapons. Aliens, far to many of the more powerful aliens. With some lack of weaponary and lots of over powering aliens, you can die extremely fast.


Overall:


Well, it all seemed good till I seemed to be getting killed by aliens cause I had no good weaponary. Underground 4/8 is still a very nice well done map, and more versions of it are probably expected, so these minor, yet possibly can be major problems will be solved. I give it 3 out of 5 Stars.



World Wide Web v1.1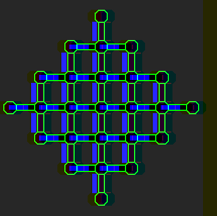 Map Name:
World Wide Web
v1.1.


Author/s:
Michael K. Neylon.


Map Size:
Small.


# of Polygons:
61.


# of Players:
2 to 6.


Also Contains:
A ReadMe File.






The Map:


This map, is simple . . .it's great. The design to WWW v1.1 is so simple, but it really does work. It's called World Wide Web v1.1 cause it's all suppose to sybolize links, like a spider web, all the strands linking to another. So, there is not much to say about this map thou, lots of weapons, lots of aliens. Mickael Neylon really got the right idea . . . .it's sooooo simple . . .but I'm amazed at how well this design works.


The Good:


Everything! Well . . .almost everything, buts that to decuss later. The design, the design, and the design again, all of it . .practically is good, if not . . .outstanding. It's child's play to escape your enemies, and since it's all inclosed into lill' hallways and such, it'll run good on all 040 or higher based Macintoshes.


The Bad:


Aliens. There are far to many aliens in this level. A small level and tons of aliens do not mix. Plus the fact that your dealing with hallways. So, Hallways+lots of aliens+Small space = disaster.


Overall:


Fantastic map. It's so unbeleivable on how simple the design is . . .but it really, really works. I strongly recommend this map to everyone and anyone who player 2 to 6 NET player games, but if you want total, ultimate carnage, fine . . .go play a 8 player game. The only reason I can take away a Star from this map . . .is how it;s overloaded with aliens. I give World Wide Web v1.1 4 out of a possible 5 Stars.