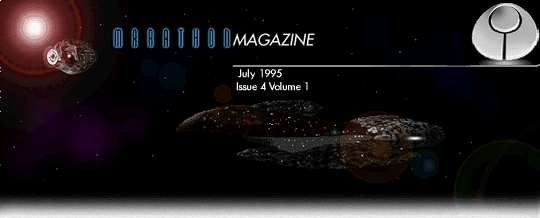 Table of Contents

A 13" Monitor and Thousands of colors are recommended for viewing.



Features

Myriad
The first attempt at a non-linear map in Marathon

ArtL999@aol.com
Check it out!



Death of a Hulk
An absolutely fantastic painting by the same
Cmull86011@aol.com artist who made the rendered
compiler picture & Marathon Marine




"One Shot, One Kill"
Physics Model pfhile, that despite the name,

SFinn@aol.com
actually makes the game harder.





Articles

From the Editor
Doom II & Dark Forces hit the Mac.
Is Marathon doomed to be forgotten?




Marathon Software Catalog
What is available and how to get to it in an
Various easy readable format




The Marathon Walkthru: Chapter 4
Chapter 4 in the Walkthru
climax@grfn.org series will take you step-by-
CKordella@aol.com step through Durandal!




Chapter screens hack
A quick text on how to make the chapter screens
Durandal appear on different levels.




Internet Marathon Sites
Looking for that recently-

released piece of software?
Here's where to find it!



Marathon Magazine Info
Information concerning Mailing Lists, Submissions
(Please Submit!), etc.