Marathon Internet Sites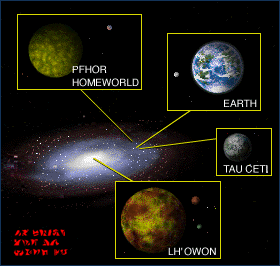 ©1994-96 Bungie Software Products Corporation.
All Rights Reserved.
Where you can find Marathon stuff on the Internet. Send entries to VidMaster@Cyber-Wizard.com



Domain Name Type Comments
------------------------------------------------------------------------------
sumex-aim.stanford.edu FTP Lots of great Marathon Sounds

#Marathon EFnet IRC Marathon Chat!

#Marathon SuperChat IRC This channel is run by the editor!

#Marathon ChatNet IRC Also run by the editor

comp.sys.mac.games USENet Macintosh Games Discussion

alt.games.marathon USENet Marathon Discussion

alt.mac.games.marathon USENet Marathon Discussion (Not nearly as popular as a.g.m.)

www.marathon.org WWW Marathon Central - biggest Marathon site on Internet!

www.mvbms.com WWW The Pfhor Information DataBase
~pulse/marathon

www.geocities.com/ WWW The Story behind Pathways Into Darkness - Lots of links
TimesSquare/7007/ to Marathon's story...

www.marathon.org/story WWW The story behind Marathon

ftp.bungie.com FTP Bungie's FTP site

www.bungie.com WWW Bungie's Web Page

www.doubleaught.com WWW Double Aught Software's Home Page

www.marathon.org/vidmaster WWW Are you a VidMaster? Find out on this page...

Marathon Magazine on the Internet


Marathon HyperArchive MidWest <http://www.pullmyfinger.com/marathon>






Back to The Table Of Contents